MWM invite you to a unique marriage event …
Today the world is seeing a new era where marriage is no longer considered necessary or even significant for a lasting relationship. Islam has laid down rules and regulations for marriage and has considered marriage an important and essential part of a Muslim's life. A lack of understanding of the weight placed on selecting the right partner and nurturing the relationship has in itself caused behaviours prohibited in Islam such as deception, sexual relationships/encounters outside of marriage,domestic violence, etc which are increasing.
Hadith 1
"Marriage is part of my sunnah, and whoever does not follow my sunnah has nothing to do with me. Get married, for I will boast of your great numbers before the nations. Whoever has the means, let him get married, and whoever does not, then he should fast for it will diminish his desire."
[Source: Sunan Ibn Majah, Vol. 3, Book 9, Hadith 1846]
Hadith 2
Anas ibn Malik reported: The Messenger of Allah, peace and blessings be upon him, said, "Whoever Allah provides with a righteous wife, then Allah has assisted him in half of his religion. Let him fear Allah regarding the second half."
[Source: al-Mu'jam al-Awsaṭ 992, Grade: Sahih (authentic) according to As-Suyuti]
Hadith 3
Allah's Messenger (peace and blessings upon him) said:
"Iblis places his throne upon water; he then sends detachments (for creating dissension); the nearer to him in rank are those who are most notorious in creating dissension between husband and wife.. One of them comes and says: "I did so and so." And he says: "You have done nothing." Then one amongst them comes and says: "I did not spare so and so until I sowed the seed of discord between a husband and a wife." Then Satan goes near him and says: "You have done well." He then embraces him."
[Source: Sahih Muslim]
Program for the afternoon
Please select one from two workshops running in parallel
1.Mindful Preparedness
What you need to know/ask and research in your search for the ideal spouse, what matters?
2. Nurturing the Bond
Navigate your way through to a long lasting successful marriage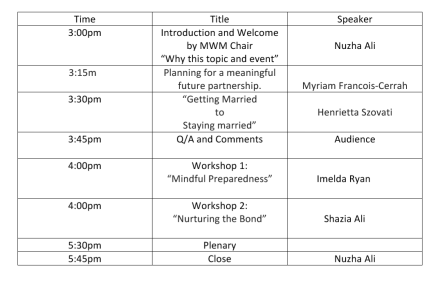 SPEAKERS
MYRIAM FRANCOIS CERRAH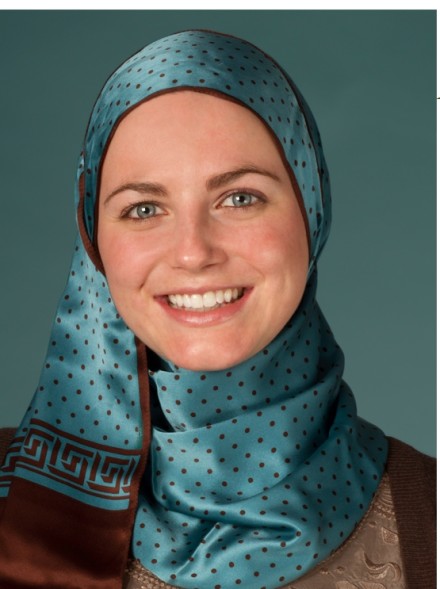 Myriam Francois-Cerrah is a Franco-British writer, broadcaster and academic with a focus on issues related to Islam, France and the Middle East. Having studied at Oxbridge, Myriam tutors at Oxford and is a Research Associate at the Centre of Islamic Studies (CIS) at SOAS University, where her research focuses on British Muslim integration issues. She also undertakes the centre's media outreach and research dissemination in relation to its work on British Muslim communities.
HENRIETTA SZOVATI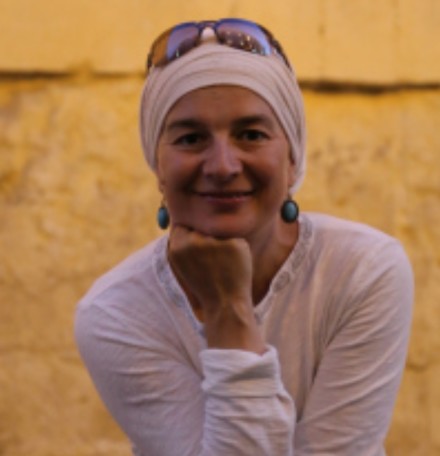 Henrietta is a life strategist and personal and professional coach, and author of the new book, HeartSmart:One Woman's Journey from her Head to her Heart. She started her career in the corporate world and after numerous international projects retrained as a coach, founding The Barefoot Institute, where traditional Islamic guidance meets cutting edge psychology and relationship science to help support Muslim relationships between husband and wife, parents and children, siblings and relatives. As a development coach, Henrietta calls for new ways to see, think, connect and lead on personal and organizational levels. She runs her own business and blogs at beheartsmart.me. Her mission is to encourage and inspire others to look at new ways to be in the world-the Heart-Smart way.
WORKSHOP HOSTS
SHAZIA ALI – Nurturing the bond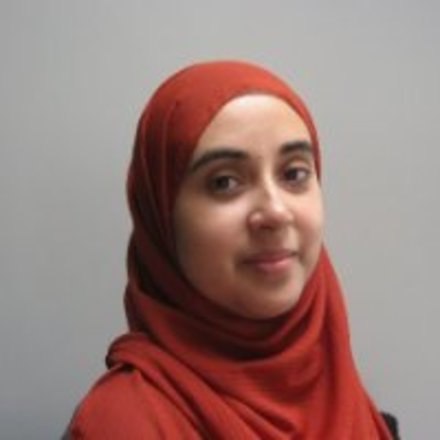 Shazia is a Laura Doyle Certified Marriage Coach who has been helping women use the Intimacy Skills™ and our Islamic teachings to experience the marriage they truly desire. Shazia comments "I had heard about Laura's book The Surrendered Wife through an Islamic scholar and after reading it I implemented a couple of her principles in my own marriage. I saw immediate results and I embarked on becoming a marriage coach. During my training I experienced an awe-inspiring shift in not only myself but also my marriage. I'm grateful that Allah guided me to take on this journey and also to be able to help other wives find the peace, love and affection they are seeking."
IMELDA RYAN – Mindful Prepardness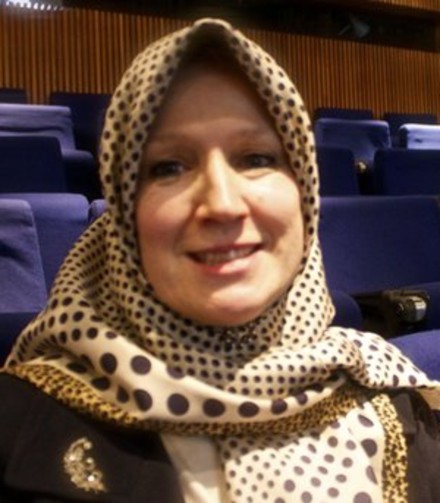 Imelda is a trainer, runs parenting workshops, a counsellor, and dynamic charity sector worker having found the Muslim Womens Helpline 30 years ago seeing the need to support vulnerable women who require community assistance with issues relating to domestic abuse, marriage breakdown, forced marriage, relationship breakdown, gender identity crises and other issues.
NUZHAT ALI – MWM Chair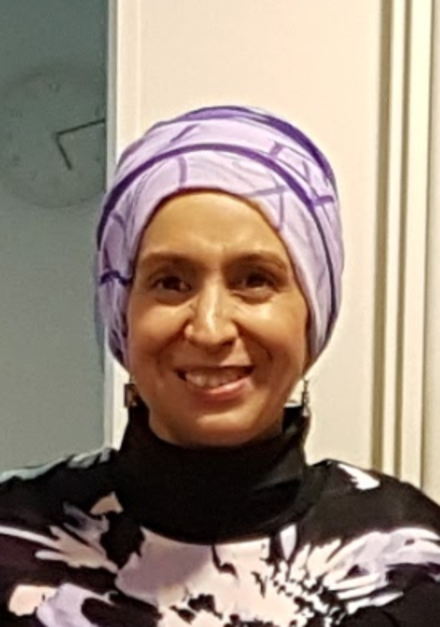 Nuzhat is the Chair of Muslim Women of Merton and will be the host of the event. She founded MWM in 2014 committed to empowering and supporting community resilience, through the capabilities of Muslim women. She leads a national portfolio for Government with an aim of making the public healthier and reducing inequalities across the population by promoting healthier lifestyles. Her work was awarded a civil service Outstanding Achievement Award for Diversity and Inclusion in 2017. A clinician with twenty five years of health management and academic experience at local, national and international levels coupled with Masters qualifications in Public Health and Management.
EVENT SPONSOR:
Connect to Sponsor: Haute-Elan Website

LOCATION OF EVENT
Wimbledon Park Hall – click on link for map.
Free Off street car parking available around venue and easy access via Wimbledon Park Tube Station
STAY CONNECTED WITH MWM

Follow us on our website www.muslimwomenmerton.com and stay updated with our news and upcoming events
DISCLAIMER
The views and opinions presented in the above mentioned event are of the speakers, presenters and do not represent those of MWM. Please check for viruses before accessing the websites of external participants and MWM shall not be held responsible for any damage, loss or liability  of any kind suffered in connection from visiting any of the external websites or which may result from reliance on the contents of the visited website  and any presentations and advice given.